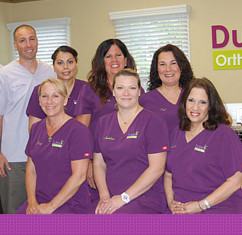 We've achieved consistently excellent results for generations!
From the moment you walk into the office of Dubin Orthodontics, you'll know that you've come to the right place for state-of-the-art orthodontic care with a personal touch. It's important to Dr. Joe that you and your children enjoy coming to the orthodontist, so he has taken every measure to provide you with a comfortable, convenient experience.
As a sole practitioner, Dr. Joe is the ONLY doctor that will see you/your child from the beginning to the end of treatment.
A beautiful, healthy, and functional smile makes us not only appear more attractive but also helps maintain the health of our entire body.
Our Technology
Our state-of-the-art tools and techniques speed treatment time and make each visit convenient for you. We have a computerized jaw analysis that helps us give you the most accurate diagnosis possible and can even shorten your treatment program. The doctor understands that each and every patient has different needs and requirements.
Personalized Attention
We believe each patient deserves personalized attention and the best orthodontic care available. We strive to make your orthodontic experience enjoyable, and we're sure you'll feel like a part of our family from the very first visit.
Your Convenience
Ours is a father-son practice that has been treating families since 1976. We have three locations in Middlesex County with accommodating appointment times.
We Love to have Fun!
"Brace" yourself for rewards and prizes! Collect tokens by wearing something that goes with our themes or wear your Dubin Orthodontics t-shirt!